Cobs Popcorn – Chicago Mix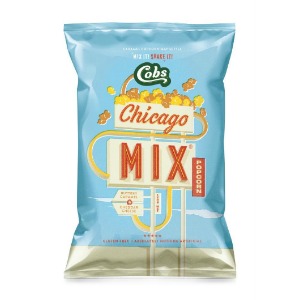 Big City Name – Big City Flavour.
A tribute to a bustling metropolis. It's the stuff of legends. Popular for decades. Loved by the masses. An eclectic mix… deliciously buttery caramel and extra tasty cheddar cheese popcorn – a pairing that's absolutely irresistible. It's the 50/50 mix that delivers 100% satisfaction… and then some!
Gluten free
100% sunflower oil – high oleic
GM free ingredients
Located: Snack foods aisle
Size: 175gm
Release date: Released
Road test: Untested
Visit website: Click Here
Shelf price: Not available at time of writing
Available from: Various IGA/Foodland/independent supermarkets and convenience stores
Distribution: National
jun2017