Nudie – Nothing But – Limited Edition – Lychee, Lime & Pear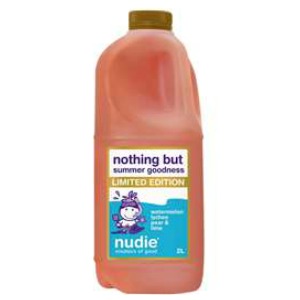 Nothing beats an Aussie summer… sand, surf and endless sunshine – and of course, fruity goodness grown right here on our shores. So Nudie got thinking, if summer was bottled, what would it taste like?
Nothing says summer more tham refreshing (and naturally sweet!) Aussie pineapples – so Nudie blended them up with some pear and mint for whenever you need a slurp of summer.
Only for a limited time!
Located: Dairy aisle
Size: 2lt
Release date: Released
Road test: Untested
Visit website:Click here
Shelf price: ∼$7.00
Available from: Coles, Woolworths, various IGA/Foodland/independent supermarkets
Distribution: National
nov2017