Red Tractor Foods – Organic Coconut Flour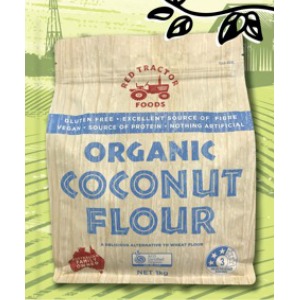 Red Tractor Organic Coconut Flour is a delicious and nutritious alternative to wheat flour. It makes for an excellent source of dietary fibre, as well as being low in digestable carbohydrates. Coconut flour is gluten free and also a source of protein.
Made from fresh and sustainable organic coconuts, Red Tractor Foods Organic Coconut Flour is made without the use of synthetic chemicals, pesticides or herbicides, and has no artificial additives, just 100% pure coconut flour.
Gluten free
Excellent source of fibre
Source of protein
Nothing artificial
Vegan
Australian family owned
ACO Certified Organic
Located: Health foods aisle
Health Star Rating (HSR): 3
Size: 1kg
Release date: Released
Road test: Untested
Visit website: Not available on Red Tractor Foods website at time of writing
Shelf price: ∼$10.00
Available from: Coles, various IGA/Foodland/independent supermarkets
Distribution: National
aug2017