Chobani Yogurt – Limited Edition Chinese New Year Flavour – Mandarin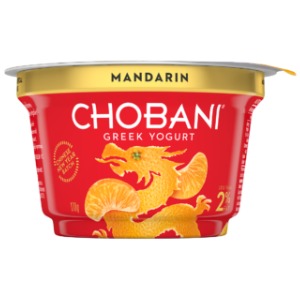 Chobani has released a limited batch of mandarin flavoured yoghurt in celebration of Chinese New Year – only one batch of the flavour has been produced, which come in special red and gold packaging as a symbol of good luck and prosperity in line with traditional Chinese culture.
The mandarin flavour was chosen as it is tradition to gift mandarins during Chinese New Year celebrations as a gesture of goodwill and prosperity for the year ahead.
Available now at Woolworths until stocks run-out.
Located: Dairy aisle
Size: 170gm
Release date: Released
Road test: Untested
Visit website: Not available on Chobani website at time of writing
Shelf price: ∼$2.25
Available from: Woolworths
Distribution: National
jan2018