Yowie – New Ranger Series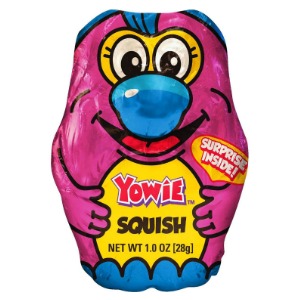 YOWIES, the popular chocolate treats from the 1990s, are back with a new 'Series 2' Rangers series of surprise toys encased in the character moulded chocolate.
There are 25 unique collectables: 20 species including animals like the Leatherback Turtle, Golden Lion Tamarin, Whale Shark, American Crocodile, Ivory-billed Woodpecker, Black-footed Ferret, Jaguar, Devil's Hole Pupfish, Florida Manatee, California Tiger Salamander, South American Tapir, Phantasmal Poison Frog, Horned Guan, Utah Prairie Dog, California Condor, Attwater's Prairie Chicken and Vaquita. There are also two limited edition toys — the American Eagle and the Palila to collect.
Yowie fans can collect the toys through buying their Yowie playmates from the series: Boof, Crag, Ditty, Nap, Rumble and Squish.
Each creature inside the Yowie Ranger series comes with a fact sheet that lists key information about the wildlife species such as its level of endangerment, physical and behavioural characteristics and natural habitat.
Each animal is rated on a scale of endangerment, with its conservation status ranging from 'not threatened', 'near threatened' and 'vulnerable', to 'endangered' and 'critically endangered'.
Yowie toys are designed to be collected and swapped so fans are able to collect the whole series.
Located: Confectionery aisle
Size: 28gm
Release date: Released
Road test: Untested
Visit website:  Click here
Shelf price: ∼$3.00
Available from: Woolworths, various IGA/Foodland/independent supermarkets, convenience stores, Big W, and Kmart
Distribution: National
apr2018