SKITTLES launches SKITTLE Pride Packs in Australia, donating its rainbow to support LGBTQIA+ Communities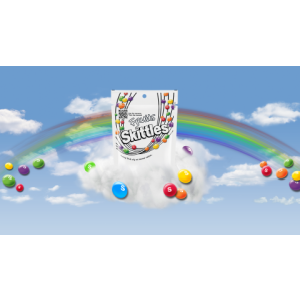 SKITTLES has launched its globally recognised SKITTLES Pride Packs in Australia to further its commitment in supporting and celebrating the LGBTQIA+ community. Featuring colourless packaging on the outside, SKITTLES aims to shift focus from its iconic rainbow to the rainbow-coloured pride flag.
The Pride Packs have been announced alongside a partnership with LGBTQIA+ non-for-profit organisation Minus18, the first Australian partnership of its kind. Together, the brands aim to provide education and support to LGBTQIA+ communities in regional and rural parts of the country, where resources are limited.
The Pride Packs will also feature a QR code unveiling an augmented reality 'World's Biggest Rainbow', that opens up resources and information directly from Minus18, along with driving donations for continuous support of the Australian LGBTQIA+ community. As part of the partnership, SKITTLES will match community donations up to $30,000, to support the important work Minus18 does in regional and rural Australia.
Drew Davis, Portfolio Director of SKITTLES Australia said:
"SKITTLES has been a long-standing supporter of Pride and the LGBTQIA+ community on a global scale. We first launched our SKITTLES Pride Packs in London in 2016, and they have since been part of critical LGBTQIA+ awareness, education and donation-driving projects year on year.
 This year, we're incredibly proud to be partnering with Minus18 in Australia. Minus18 are pioneers in providing education and creating positive strides for Pride in regional and rural communities, who are sadly under-resourced and unrepresented. As a member of the PRIDE community who grew up in rural NSW myself, it makes me incredibly proud that we're able to bring this important campaign to Australia. We hope the World's Biggest AR Rainbow helps Minus18 increase their visibility across critical areas and affect change for the LGBQTIA+ community"
SKITTLES Pride Packs will begin rolling out across major retailers nationally from 9 February, 2022 until stocks last.
090222