Gippsland Dairy – Limited Batch Yogurt – Caramelised Pineapple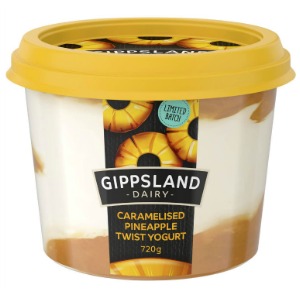 Gippsland Dairy has taken their thick, creamy yogurt and paired it with a twist of oozy, caramelized pineapple… a yogurt that will surely whisk your taste buds away to a tropical paradise.
To craft something truly special takes time. Gippsland Dairy Caramelised Pineapple Twist Yogurt is made in small batches to create the richest, creamiest, most delicious dairy products you'll ever taste.
Located: Dairy aisle
Size: 720gm
Visit website: Click here
Shelf price: ∼$7.00
Available from: Woolworths, various IGA/Foodland/independent supermarkets
Distribution: National
mar2020