Libra – Liners – Double 2 in 1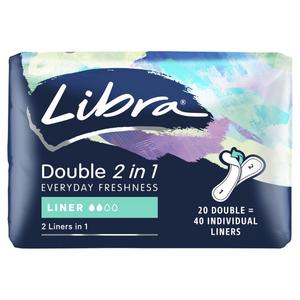 Libra's new Double 2 in 1 Liners are designed with two thin liner layers, if you need a quick freshen up, simply peel off the top layer of the thin 2in1 Liner to reveal the clean, second liner and you're ready to go.
Ultra-thin and flexible, you won't even notice they're there, especially thanks to Libra's anti-bunching design. And the 4-layer Instadry technology will have you feeling dry and comfortable all day long.
2 Liners in 1
Absorption: 2 out of 4
Located:   Personal Hygiene aisle
Size:   20 Pack
Visit website:   Click Here
Shelf price:  ∼$2.70
Available from:   Coles, various IGA/Foodland/independent supermarkets
Distribution:   National
aug2020