Nestle – Caramel Dulce De Leche – Squeezy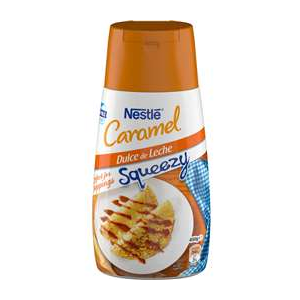 Nestlé Caramel Dulce de Leche Squeezy is a creamy caramel sauce made by caramalising sweetened condensed milk. It is made from fresh milk with the convenience of a no-spill, resealable bottle.
Perfect for topping, drizzling and pouring over your favourite sweet creations such as pancakes and crepes, filled into pastries.
You can also use it as an ingredient in your baking to create delicious creamy caramel desserts such as ice cream, banoffee pie, tarts and much more.
Located:   Long Life Milks aisle
Size:   450gm
Visit website:   Not available on Nestle website at time of writing.
Shelf price:   ~$6.00
Available from:   Coles, Woolworths, various IGA/Foodland/independent supermarkets
Distribution:   National
30jul21
Disclaimer: The Grocery Geek provides general product information, which is intended as a guide only, please ensure that you read the product label before consuming.