Continental – Classics – Creamy Cheesy Mash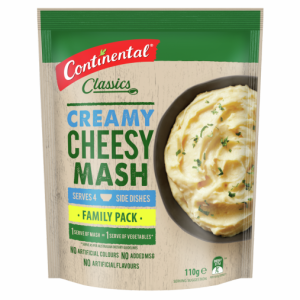 Continental Classics Cheesy Mash Family Pack takes less than a minute to prepare, no more prep time. Serve this Cheesy mash as a side dish or create the Little Cottage Pies recipe on the back of the pack. Delicious mash potato in less than a minute.
Serves 4
No artificial colours.
No artificial flavours.
No added MSG.
Made in Australia.
Located:   Packet meals aisle
Size:   110gm
Visit website:   Click here
Shelf price:  ∼$2.50
Available from:   Woolworths, various IGA/Foodland/independent supermarkets
Distribution:   National
5aug21
Disclaimer: The Grocery Geek provides general product information, which is intended as a guide only, please ensure that you read the product label before consuming.