Natures Goodness – Dog Food Meal Booster – Protein Balls – Chicken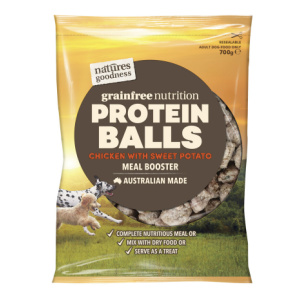 Natures Goodness understands that what your dog eats affects their health and vitality. Natures Goodness Grain Free Nutrition offers a Grain Free alternative to help maximise your dog's energy levels in a way that is best suited to their digestion. The holistic blend of selected natural ingredients in every Natures Goodness Grain Free product has been carefully selected to deliver the health, taste and nutrition that your dog needs to get the most out of life.
Quality meat proteins are the building blocks for growth and aid lean muscle development and maintenance.
Good source of energy
Natural prebiotic plant fibres beet pulp and chicory root promote the growth of beneficial bacteria and help support healthy digestion.
Grain Free complete and balanced diet
Mix with dry food or serve as a treat
Adult dog food only
Located:   Chilled pet food aisle
Size:   700gm
Visit website:   Not available on Natures Goodness website at time of writing
Shelf price:  ∼$6.00
Available from:   Coles, Woolworths, various IGA/Foodland/independent supermarkets
Distribution:   National
240821
Disclaimer: The Grocery Geek provides general product information, which is intended as a guide only, please ensure that you read the product label before consuming.