Centralin – Ka Antibacterial 4in1 Laundry Detergent Capsules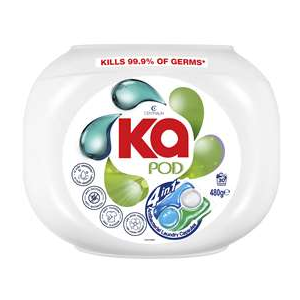 The first antibacterial laundry capsule available in Australia.
Combining cleaning, antibacterial and deodorising power, one ultra-concentrated Ka laundry capsule is all you need for softer, cleaner and fresher-smelling laundry.
4 in 1 action
Antibacterial
Deep cleaning
Fabric softener
Long lasting fragrance
5x ultra concerntrated
Water-soluble capsule dissolve easily into water
Both Front & Top Loader compatible
Located:   Laundry aisle
Size:   30 pack (480gm)
Visit website:   Not available on Centralin website at time of writing
Shelf price:  ∼$21.00
Available from:   Woolworths
Distribution:   National
240921
Disclaimer: The Grocery Geek provides general product information, which is intended as a guide only, please ensure that you read the product label before consuming.