Green & Black's – Organic Milk Chocolate with Butterscotch Block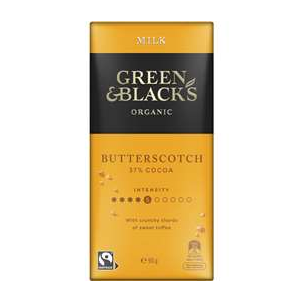 Green & Blacks Organic Butterscotch is 37% milk chocolate with pieces of butterscotch which is perfectly balanced with a hint of molasses & caramel tones.
Made from sun-dried, organic cocoa, softened by crunchy, sweet butterscotch from Yokshire.
Passionately crafted by bringing together the finest ingredients
Certified Organic
Fairtrade certified
Ethical Cocoa
Sustainable cocoa
37% Smooth & Creamy Cocoa
Located:   Confectionery aisle
Size:   90gm
Visit website:   Not available on Nestle website at time of writing
Shelf price:  ∼$5.00
Available from:   Woolworths, various IGA/Foodland/independent supermarkets
Distribution:   National
250921
Disclaimer: The Grocery Geek provides general product information, which is intended as a guide only, please ensure that you read the product label before consuming.