Krispy Kreme Doughnuts – Limited Edition – Caramilk Range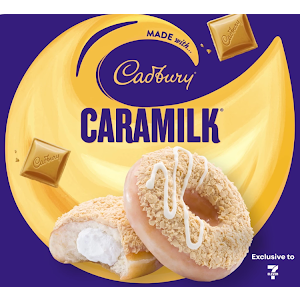 Krispy Kreme has released their limited edition range of Caramilk Doughnuts.
Available in 2 variants:
Cadbury Caramilk Ring doughnut – based on Krispy Kreme's original glazed doughnuts but with the addition of Cadbury Caramilk chocolate icing and flakes.
Cadbury Caramilk Shell doughnut – with a crème filling, topped with Cadbury Caramilk chocolate and flakes.
Size:   Each
Visit website:   Not available on Krispy Kreme website at time of writing
Shelf price:  ∼$3.75
Available from:   7-Eleven
Distribution:   National
280921
Disclaimer: The Grocery Geek provides general product information, which is intended as a guide only, please ensure that you read the product label before consuming.