Allen's – Party Faves Lollies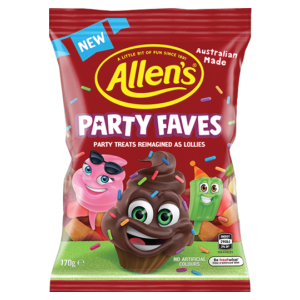 Allen's has reimagined our favourtie party treats as lollies – discover flavours like strawberry fairy floss, chocolate cupcake, green apple, icy pole, lemon-lime unicorn, boysenberry ice cream and grape bubble-gum present. If you're lucky, you might even find rare flavour combos like strawberry-apple and strawberry-grape!
No artificial colours
Australian made
Located:   Confectionery aisle
Size:   170gm
Visit website:   Not available on Allen's website at time of writing
Shelf price:  ∼$3.00
Available from:   Coles, Woolworths, various IGA/Foodland/independent supermarkets
Distribution:   National
180921
Disclaimer: The Grocery Geek provides general product information, which is intended as a guide only, please ensure that you read the product label before consuming.