Always Fresh – Italian Piccolo Pizza Bites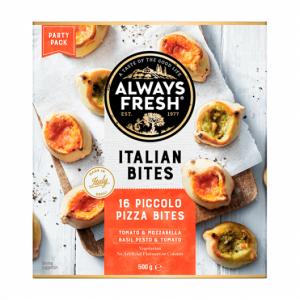 Share the taste of Italy at home in minutes! Enjoy Always Fresh's Tomato & Mozzarella and Basil Pesto & Tomato Piccolo Pizza Bites and share the good life – each pack contains 16 Piccolo Pizza Bites – a mix of Tomato & Mozzarella; and Basil Pesto & Tomato bites.
Located:   Freezer aisle
Size:   16 pack (500gm)
Visit website:   Click here
Shelf price:  ∼$14.00
Available from:   Coles
Distribution:   National
021021
Disclaimer: The Grocery Geek provides general product information, which is intended as a guide only, please ensure that you read the product label before consuming.