Harvest Gourmet – Plant Based – Sensational Burger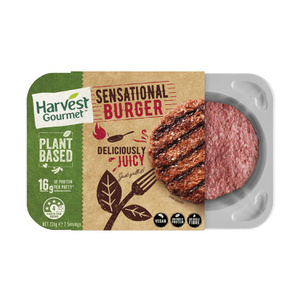 The HARVEST GOURMET Sensational Burger is a delicious plant-based, vegan friendly burger mince with no compromise! To cook, throw it on to the BBQ or into the pan, it sizzles and looks like meat with 19 grams of protein per serve. It looks, cooks, smells and tastes just like a burger should. Try your favourite burger recipes meat-free or turn it into a delicious wrap or bun-less burger recipe. Whether you're vegan, vegetarian, flexitarian or just trying to eat a little less meat, you'll love the taste.
Plant based
Vegan
Good source of protein – 16g of protein per patty
Good source of fibre
Deliciously juicy
Ready to grill
2 serves per pack
HSR: 4
Located:   Butchery aisle
Size:   226gm
Visit website:   Not available on Harvest Gourmet website at time of writing
Shelf price:  ∼$10.00
Available from:   Coles
Distribution:   National
051021
Disclaimer: The Grocery Geek provides general product information, which is intended as a guide only, please ensure that you read the product label before consuming.