Whittaker's – Milk Chocolate Block – Peanut Butter & Jelly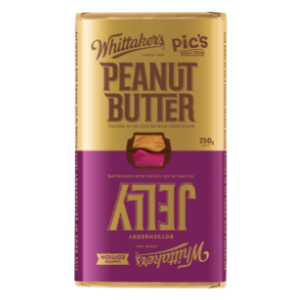 The ultimate Peanut Butter & Jelly sandwich! Five rows of Pic's Smooth Peanut Butter filling and five rows of Boysenberry Jelly filling, all encased in Whittaker's 33% Cocoa Milk Chocolate.
Located:   Confectionery aisle
Size:   250gm
Visit website:   Click here
Shelf price:  ∼$6.00
Available from:   Coles, Woolworths, various IGA/Foodland/independent supermarkets
Distribution:   National
091021
Disclaimer: The Grocery Geek provides general product information, which is intended as a guide only, please ensure that you read the product label before consuming.