Lakanto – Low Carb Protein Pancake Mix – with Monkfruit Sweetener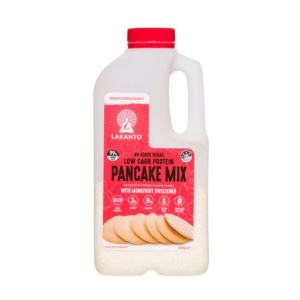 Lakanto's Low Carb Protein Pancake Mix with Monkfruit Sweetener provides all-natural ingredients so everyone can enjoy pancakes without the calories – Monkfruit sweetened pancakes are packed with 8g of protein and only 3.3 Carbs per serve – suitable for a range of dietary requirements including diabetics.
Lakanto's Monk Fruit is grown using the same ancient, traditional methods used by Buddhist monks in east Asia, that give the fruit its name. Originally cultivated for its sweetness and apparent healing properties, the Monk Fruit has been used to create a 100% natural alternative to sugar.
Keto
Gluten free
Dairy free
Nut free
Low carb
Low sugar
Non-GMO
For a low carb and keto friendly breakfast, Lakanto's Monkfruit Maple Flavoured Syrup is the ideal healthy alternative and is the perfect topping for pancakes, keeping it Responsibly Sweet.
Located:   Baking aisle or health foods aisle
Size:   200gm
Visit website:   Click here
Shelf price:  ∼$8.00
Available from:   Woolworths, various Health Food stores or directly online: Click here
Distribution:   National
141021
Disclaimer: The Grocery Geek provides general product information, which is intended as a guide only, please ensure that you read the product label before consuming.