Violet Crumble Milk – Caramel Honeycomb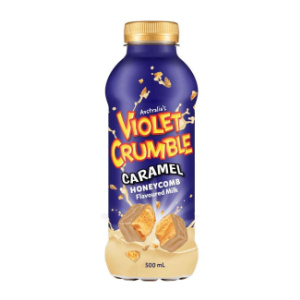 Robert Menz (owner of Violet Crumble) and Bickford's Australia have joined forces to create the new Violet Crumble Caramel Honeycomb Milk – which combines two iconic Aussie flavour favourites – caramelized white chocolate with honeycomb'.
Made using 95% Australian ingredients, contains no preservatives, artificial sweeteners, colours or flavours.
Available nationally from 25th October 2021.
Located:   Drinks aisle
Size:   500ml
Visit website:   Not available on Violet Crumble website at time of writing
Shelf price:  ∼$4.50
Available from:   Coles, various IGA/Foodland/independent supermarkets and convenience stores
Distribution:   National
151021
Disclaimer: The Grocery Geek provides general product information, which is intended as a guide only, please ensure that you read the product label before consuming.