Kellogg's – Sultana Bran – Limited Edition – Hot Cross Bun Flavour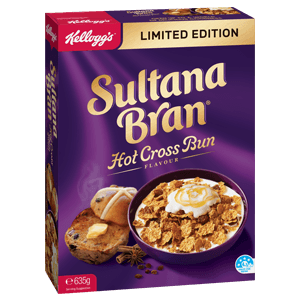 Kellogg's has released their new limited edition Sultana Bran Hot Cross Bun flavour which has the rich and indulgent taste of freshly baked hot cross buns in every bowl… enjoy the taste of malty flakes and sultanas with cinnamon and spice flavour.
Treat yourself and try with warm milk to enjoy the nostalgic scent of spices and freshly baked hot cross buns straight out of the oven.
 Located:   Breakfast Cereals aisle
 Size:   635gm
 Visit website:   Click here
 Shelf price:  ∼$7.50
Available from:   Woolworths
Distribution:   National
060122
Disclaimer: The Grocery Geek provides general product information, which is intended as a guide only, please ensure that you read the product label before consuming.