Simson's Pantry – Low Carb Keto Friendly Wraps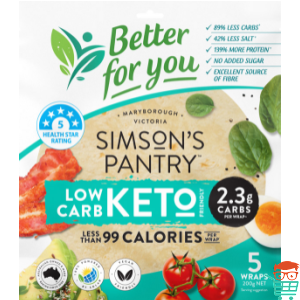 Simson's Pantry's new 'Better for You Low Carb Keto friendly' wraps are unique, light, soft, pliable and melt in your mouth. With the best part being that they are only 2.3g carbs and 98 calories per wrap – they deliver a delicious option to consume less carbohydrates and meet your individual macro targets whilst still enjoying the foods you love!
These wraps are Keto friendly, and contain wheat, for those that do choose to still consume wheat/ grains on a Low Carb and Keto diet.
8" Medium sized (40g per wrap)
3g carbs per wrap/ 5.7g per 100g
98 calories per wrap
1g protein per wrap/ 20.3g per 100g
196mg salt per wrap/ 490mg per 100g
4g FAT per wrap/ 11g per 100g
Excellent source of Fibre (8.9g per wrap/ 22.2g per 100g)
HSR: 5.0
Vegan
No added sugar (0.4g per wrap/ 1.0g per 100g – naturally occurring sugar)
100% Australian owned & made
100% made using solar electricity
Located:   Bakery aisle
Size:   5 pack (200gm)
Visit website:   Click here
Shelf price:  ∼$6.00
Available from:   Coles
Distribution:   National
060122
Disclaimer: The Grocery Geek provides general product information, which is intended as a guide only, please ensure that you read the product label before consuming.