Doritos – ReachOut – Bold BBQ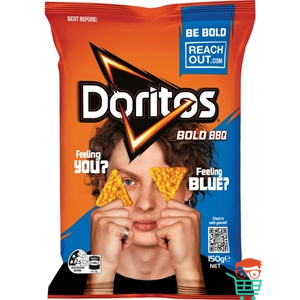 Doritos has released a special edition Bold BBQ flavour in support of ReachOut – Doritos believes in building a more confident, equal, and proudly diverse world and that's why Doritos supports ReachOut.
Accessed by more than 2 million people in Australia each year, ReachOut is a free online mental health service helping young people be well and stay well.
Located:   Snack foods aisle
Size:   150gm
Visit website:   Not available on Doritos website at time of writing
Shelf price:  ∼$3.75
Available from:   Woolworths, Coles, various IGA/Foodland/independent supermarkets
Distribution:   National
250522
Disclaimer: The Grocery Geek provides general product information, which is intended as a guide only, please ensure that you read the product label before consuming.