Nuttelex – Pulse Buttery Dairy Free Spread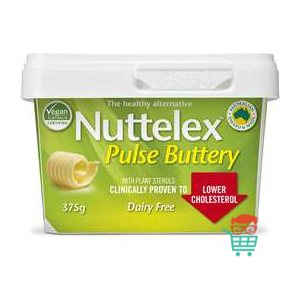 New Nuttelex Pulse Buttery Dairy Free Spread is good for your heart and great on your toast too, this deliciously buttery blend has 70% less saturated fat than butter, though you'd never know it. A must for those watching their cholesterol, it contains natural plant sterols that research has shown can actively lower your body's cholesterol absorption. Dairy free, cholesterol free and salt reduced like all Nuttelex spreads.
Contains natural plant sterols
Dairy free
Cholesterol free
Salt reduced
Located:   Dairy aisle
Size:   375gm
Visit website:   Click here
Shelf price:  ∼$4.60
Available from:   Woolworths, various IGA/Foodland/independent supermarkets
Distribution:   National
220622
Disclaimer: The Grocery Geek provides general product information, which is intended as a guide only, please ensure that you read the product label before consuming.