Mojo Kombucha – Perky Peach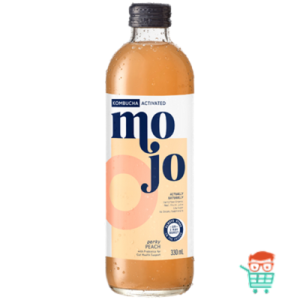 Mojo Beverages has launched its new Kombucha drink flavour – Perky Peach – which is described as peach perked up with juicy mango and zingy citrus for a refreshingly sweet and tangy take on a traditional tea!
Consistent with the entire Mojo range, the new flavour is certified organic, low sugar, made with "real" fruits and no "sneaky" sweeteners, and contain probiotics for "proven" gut health support.
Probiotics for gut health support
Thriving with live cultures
Made with real fruit &/or spices
Low sugar
Stevia free
Authentically fermented
Certified Organic
Located:   Refrigerated drinks aisle
Size:   330ml
Visit website:   Click here
Shelf price:  ∼$3.50
Available from:   Woolworths
Distribution:   National
010822
Disclaimer: The Grocery Geek provides general product information, which is intended as a guide only, please ensure that you read the product label before consuming.