Vicks – VapoShower Non-Medicated Shower Tablets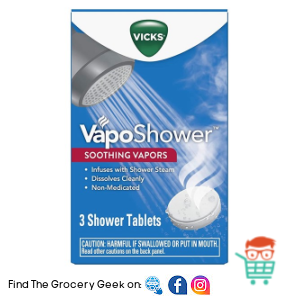 Vicks VapoShower tablets are specially formulated to soothe with non-medicated vapors and transform an everyday shower into the ultimate relaxing experience – VapoShower tablets infuse with your shower steam to deliver the Vicks scent you know & love – When you're feeling tired and rundown, turn your shower into a sauna so you can feel like yourself again.
VapoShower contains a proprietrary blend of eucalyptus and essential oils + scents of menthol & camphor.
Easy to use and dissolve cleanly.
Infuses with Shower steam.
Non-medicated. Not intended to treat cold or flu symptoms.
Size:   Available in 3 pack – ∼$9.99; and 5 pack – ∼$14.99
Visit website:   Click here
Shelf price:   As detailed above
Available from:   Initially available a Chemist stores
Distribution:   National
050423
Disclaimer: The Grocery Geek provides general product information, which is intended as a guide only, please ensure that you read the product label before consuming.