Cuddly – Concentrate – Aroma Intense – Elegant Orchid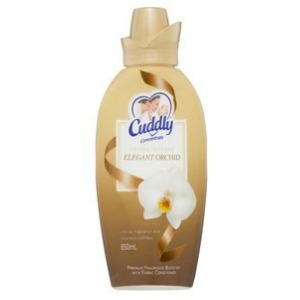 Cuddly Aroma Intense Elegant Orchid Premium Fragrance Booster with Fabric Conditioner provides intense fragrance and luxurious softness.
A signature intense fragrance that lasts 100 days (when used for storage of freshly laundered cotton, linen and wool).
Elegant Orchid is a uniquely elegant floral blend with delicate orchid notes that rest on a complex rich bed of amber with hints of chocolate accords.
Located: Laundry aisle
Size: 850ml
Release date: Released
Road test: Untested
Visit website: Not available on Cuddly website at time of writing
Shelf price: ∼$9.00
Available from: Coles, Woolworths, various IGA/Foodland/independent supermarkets
Distribution: National
jul2019