Reef – Sun Tan Oil – Coconut Shimmer Bronze Glow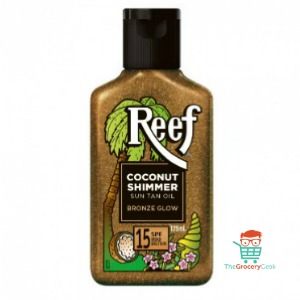 Get bronzed. Get glistening. Get Shimmer – Reef Sun has released their new Reef Coconut Shimmer, your new beach essential for your ultimate tan goals!
Reef Coconut Shimmer Sun Tan Oil SPF15 provides broad spectrum protection from the harmful effects of UV rays and is blended with light-reflecting mica minerals for a beautiful sun-kissed glow. Scented with the smell of summer – Reef's signature coconut fragrance.
Note: Always read the label. Follow the directions for use – Sunscreens are only one part of sun protection. Prolonged high-risk sun exposure should be avoided. Frequent re-application or use in accordance with directions is required for effective sun protection. It is important to wear protective clothing, hats and eyewear when exposed to the sun. 
Located: Sun screens aisle
Size: 125ml
Visit website: Not available on Reef Sun website at time of writing
Shelf price: ∼$16.99
Available from: Reef stockists
Distribution: National
aug2019