Starbucks by Nespresso Coffee Capsule Range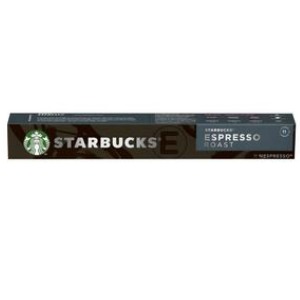 Starbucks and Nestlé have released their new "Starbucks by Nespresso" range of coffee capsules which allows brewed coffee and espresso lovers to recreate the Starbucks Experience in the comfort of their own home – each capsule combines the high-quality, 100% arabica Starbucks coffee that customers know and love with the premium at-home coffee experience of Nespresso.
Capsules are made of aluminium and are recyclable as a part of the Nespresso recycling program
Made with 100% high-quality arabica coffee, ethically sourced  adhering to Starbucks C.A.F.E. Practices
Available in 6 variants:
Starbucks Blonde Espresso – Intensity 6 – Nearly five decades of sourcing, blending and roasting brought Starbucks here; an espresso that's boldly mellow. This special blend of beans from Latin America was carefully roasted to coax out sweet, vibrant notes. Soft and balanced, it pairs well with milk, making classic espresso drinks extra smooth without a roasty edge.
Starbucks Colombia Single-Origin – Intensity 7 – Starbucks has always loved coffee from Colombia. And they're never reminded of that love more than when they're traveling to the coffee farms. Driving treacherous dirt roads with a sheer mountain wall to one side & nothing but air for thousands of feet to the other. For Starbucks, the round body, juicy taste and signature nutty finish of this coffee are worth the journey every time.
Starbucks House Blend – Intensity 8 – It's deceptively simple. A blend of fine Latin American beans roasted to a glistening, dark chestnut color. Loaded with flavor, balancing tastes of nut and cocoa, just a touch of sweetness from the roast. Inspired by the very first blend Starbucks ever created for you back in 1971, this is a delicious cup of coffee.
Starbucks Sumatra – Intensity 10 – Like the lush Indonesian island of its origin, this spicy coffee stands alone. Full-bodied with a smooth mouthfeel, lingering flavors of dried herbs and fresh earth, and almost no acidity. Coffee from Sumatra is the foundation of Starbuck's most treasured blends, and something they've been honored to share with you for four decades.
Starbucks Caffe Verona – Intensity 10 – This is a coffee of one true love, and three names. Starbucks created it for a Seattle restaurant in 1975, as Jake's Blend. People loved it so much they began scooping it in their stores as 80/20 Blend, after the recipe. The love was so strong they finally made it official, calling it Verona after the city that inspires so many.
Starbucks Espresso – Intensity 11 – This coffee is inspired by the espresso beverages Starbucks prepare for you in their stores, which all begin with their Espresso Roast. The quest began in 1975 with a search for the perfect melding of beans and roast, ending months of intense experimentation later with a rich and caramelly blend.
Located: Coffee aisle
Size: 10 pack
Visit website: Not available on Nespresso website at time of writing
Shelf price: ∼$6.90
Available from: Coles, Woolworths, various IGA/Foodland/independent supermarkets
Distribution: National
sep2019