Be Natural Australian Lemon Myrtle & Pepper Berry Clusters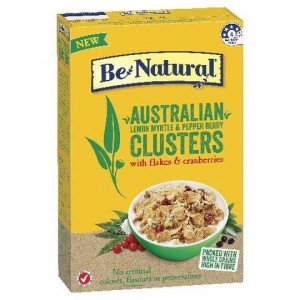 Be Natural have infused their whole grain clusters with lemon myrtle from the Queensland tropics and pepper berry from the cool regions of Tasmania to deliver a distinctive breakfast experience which is packed with whole grains and high in fibre.
Be Natural Lemon Myrtle and Pepper Berry Clusters are a blend of five whole grain flakes, sweetened cranberries and multigrain, seed and spiced clusters. The gentle citrus and spice notes of this delicious breakfast cereal bring the flavour of Australia into your morning.
Health Star Rating: 4
Size: 410gm
Release date: Released
Road test: Untested
Visit website: Click Here
RRP: ∼$5.19
Available from: Not confirmed, seen Woolworths
Distribution: Not advised