Beechworth Honey – Bee… Raw – Honey & Honeycomb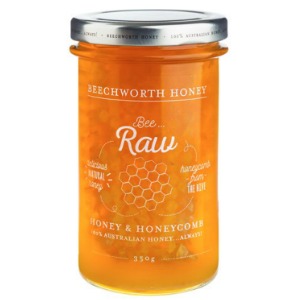 A piece of natural honeycomb immersed in pure Beechworth Honey – the beautiful piece of honeycomb provides a deliciously buttery wax adding a whole new dimension to the honey.
You will not get any closer to pure Australian honey than this, from the hive to your home!
100% Australian honey… always
Honeycomb straight from the hive
Every jar of Beechworth Honey contributes to saving Australia's honeybees.
Located: Spreads aisle
Size: 350gm
Release date: Released
Road test: Untested
Visit website: Click Here
Shelf price: ∼$7.50
Available from: Coles, various IGA/Foodland/independent supermarkets or directly from Beechworth Honey – click link above
Distribution: National
may2017