Ben & Jerry's – Sofa So Good Together Tub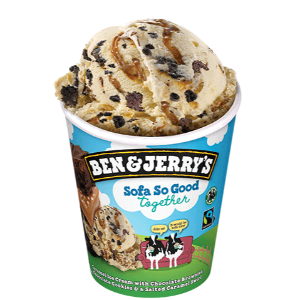 Caramel Ice Cream with Chocolate Brownies, Chocolate Cookies & a Salted Caramel Swirl ideal for sofa sharing sessions…dive into the salted caramel swirl, chocolate cookies & chewy brownies. Sofa So Good, Ben & Jerry think!
Located:   Freezer aisle
Size:   458ml
Visit website:   Click Here
Shelf price:   ∼$7.00
Available from:   Coles, various IGA/Foodland/independent supermarkets
Distribution:   National
jun2021
Disclaimer: The Grocery Geek provides general product information which is intended as a guide only, please ensure that you read the product label before consuming.