Berocca Boost now with Guarana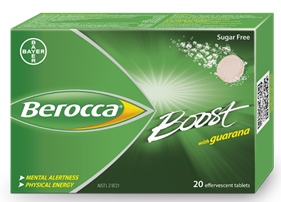 Berocca Boost contains Guarana, an energizer to help give you a mental and physical boost when you need it.
It contains a unique combination of B vitamins and minerals to give you a little kick when you need it.
Helps to increase mental alertness and physical energy
Specifically tailored for young adults and their busy lifestyles
This product contains caffeine and is not recommended for children and adolescents less than 18 years of age, pregnant or lactating women and individuals sensitive to caffeine – Always read the label. Use only as directed.
Size:   10pk and 20pk
Release date:   Released   
Road test:   Untested
Visit website:   http://www.berocca.com.au
RRP:   not advised
Available from:   Coles, Woolworths and independent retailers.