BFree – Stone Baked Pita Pockets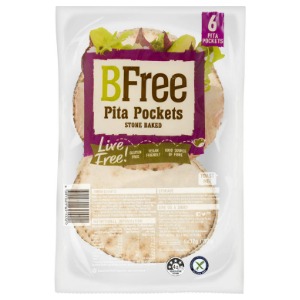 BFree have released their new pita pockets – baked in an authentic stone fired oven, gluten free, vegan friendly and a good source of fibre, they are perfect for lunches and snacks anytime!
Lunchtime will never be the same again with these new delicious gluten free and vegan friendly Pita Pockets from BFree Foods. Simply pop in the toaster or on the grill and watch the pita rise to give you a pocket that can easily be opened and filled with your favourite ingredients.
Gluten free
Wheat free
Dairy free
Nut free
Soy free
Egg free
Non GMO
Good Source of Fibre
Suitable for Vegans
Kosher
Endorsed by Coeliac Australia & New Zealand
Located:   Bakery aisle
Health Star Rating (HSR):    4.5
Size:   192gm
Visit website:   Not available on BFree website at time of writing
Shelf price:   Unknown at time of writing
Available from:  Woolworths, various IGA/Foodland/independent supermarkets
Distribution:   National
oct2019