Blackmores Exercise Multi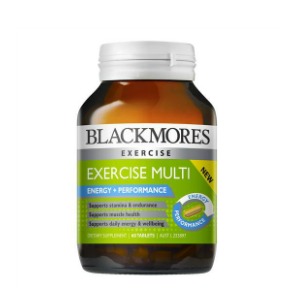 Formulated with nutrients to support daily exercise including Siberian ginseng, "body-ready" B vitamins, magnesium and amino acids.
This dual layer tablet helps you get the most from your workout and your day, in a one-a-day dose.
Siberian ginseng to support stamina, endurance, exercise performance and daily energy.
Vitamin D to support muscle and bone health.
With 'body-ready' B vitamins (contains metabolically active forms of vitamins B6 & B9).
With magnesium and branched chain amino acids Vegan friendly.
Located: Vitamins aisle
Size: 60pk
Release date: Released
Road test: Untested
Visit website: Click Here
RRP: ∼$26.99
Available from: Coles, Woolworths, various IGA/Foodland and independent supermarkets and chemists, or direct at the Blackmores website above.
Distribution: National