Califia Farms – Barista Blend – Oat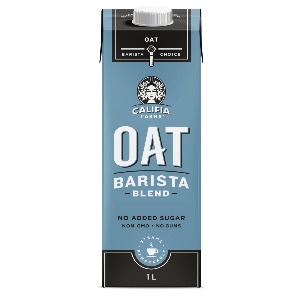 Califia Farms make dairy-free plant-based beverages that are both good-for-the-world and just plain good to drink. Made with whole rolled oats, Califia Farms new Oat Barista Blend is unsweetened (no added sugar).
Califia Farms worked closely with the barista community in crafting this product to ensure it exceeds expectation on both taste and function. As a result, the new Oat Barista Blend is creamy, rich and perfectly complements the natural, robust flavour of coffee. It also steams without splitting.
Unsweetened – No Added Sugar
No Gums
No Dairy
No Soy
Located:   Dairy aisle
Size:   1L
Visit website:   Not available on Califia Farms Australia website at time of writing
Shelf price:   Unknown at time of writing
Available from:   Various IGA/independent supermarkets
Distribution:   National
jun2020