Carman's – Oat Slice Bites Variety Pack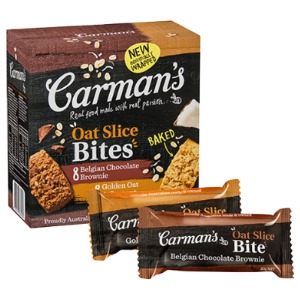 Everybody deserves a 'me' moment, and what better way to enjoy it than with one of Carman's scrumptiously soft-baked oat slice bites? They look and taste like they're fresh from your oven – only Carman's has done all the baking for you!
These scrumptious soft-baked bites are a mini version of the Oat Slice recipes you know and love.
These variety boxes contains:
8 Belgian Chocolate Brownie Oat Slice Bites
8 Golden Oat & Coconut Oat Slice Bites
Located: Muesli bars aisle
Size: 16 pack (320gm)
Release date: Released
Road test: Untested
Visit website:Click here
Shelf price: ∼$10.00
Available from: Coles
Distribution: National
oct2017