Carman's – Seed & Plant Protein Bars – Raspberry & Pistachio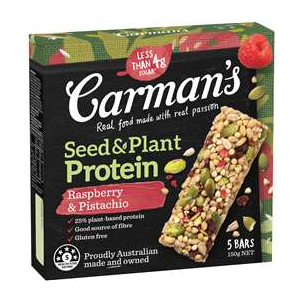 A wholesome plant-based protein 'pick-me-up' combining the natural power of whole seeds and nuts – with deliciously tangy raspberries – to help you feel satisfied and fuller for longer.
Vegan friendly
Contains less than 4g sugar (contains on average less than 4g sugar per bar)
25% plant-based protein,
Good source of fibre
Gluten free.
Health Star Rating – 5
Located:   Snack bars aisle
Size:   5 pack (150gm)
Visit website:   Click here
Shelf price:  ∼$5.00
Available from:   Coles, Woolworths, various IGA/Foodland/independent supermarkets
Distribution:   National
150921
Disclaimer: The Grocery Geek provides general product information, which is intended as a guide only, please ensure that you read the product label before consuming.