Carmex – Classic Squeeze Tube – Special Edition – Bushfire Recovery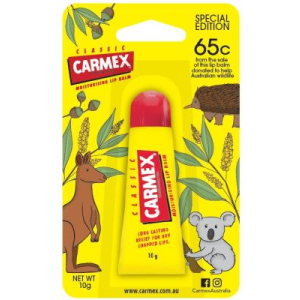 Whilst Carmex have been focused on helping Aussie lips for over 30 years, they are also a family business with deep appreciation of our country's iconic flora and fauna. The toll the bushfires took on our unique animals and their habitats last summer is going to take years to recover from, so the team at Carmex decided to help! And so, Carmex created this very special edition of their popular Classic Squeeze Tube.
65 cents from every special edition pack sold will be donated by Carmex to three amazing organisations, with a focus on land regeneration, habitat protection, the nationwide Koala programme, and Australia's National Parks. The charities include: The Australian Koala Foundation, Foundation for National Parks & Wildlife and Foundation for Australia's Most Endangered Species.
Located:   Health & Beauty aisle
Size:   10gm
Visit website:   Click Here
Shelf price:  ∼$4.99
Available from:   Coles, Woolworths or Carmex online store: Click Here
Distribution:   National
aug2020