Chai Me – The Sticky Brew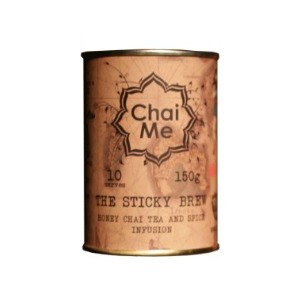 Chai Me says that this is their "most favourite chai. Traditionally blended using Assam black tea, infused with honey and whole spices which makes an absolutely delicious chai that will make you and your guests go WOW."
Chai Me spice ingredients:
Clove – contains significant amounts of an active component called eugenol, which has been the subject of numerous health studies on the prevention of toxicity from environmental pollutants like tetrachloride, digestive tract cancers and joint inflammation.
Cinnamon – In traditional Chinese medicine Cinnamon is used for colds, nausea, and painful menstrual periods, it improves energy, vitality and circulation.
Ginger – a natural decongestant and antihistamine. Ginger has a warming action on the upper respiratory tract, making it very useful in the treatment of colds, flu, and other respiratory disorders.
Cardomom – The therapeutic properties have found application in many traditional medicines as an antiseptic, antispasmodic, digestive, expectorant and stimulant. Cardamom is a good source of minerals like potassium, calcium and magnesium.
Star Anise – Traditionally used as a spice and also as a healing herb, Star Anise appears to have medicinal properties that endow it with significant health benefits.
Visit their website to view and/or purchase from their full range of products.
Size: 150gm
Release date: Released
Road test: Untested
Visit website: Click Here
RRP: ∼$7.99
Available from: Woolworths, various independent supermarkets, or direct from their website
Distribution: National