Chris' – Heritage Desserts – New Flavour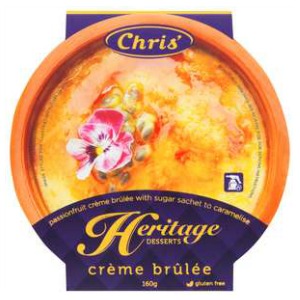 Chris' Heritage Desserts are a range of restaurant quality desserts to make entertaining at home easy.
Using the highest quality ingredients, Chris' premium Heritage Dessert range comes ready-to-serve in Chris' signature, reusable, European terracotta pots.
Each Crème Brulee comes with an enclosed sachet of sugar to caramelise
Gluten free
New flavour:
Passionfruit – silky creamy egg custard with a back note of passionfruit flavour.
Located: Dairy aisle
Size: 160gm
Release date: Released
Road test: Untested
Visit website: Click Here
Shelf price: ∼$5.00
Available from: Woolworths, various IGA/Foodland/independent supermarkets
Distribution: National