Cleavers – Free Range Wagyu Beef Hotdog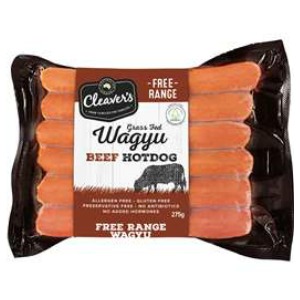 Cleavers Grass Fed Wagyu Beef Hotdogs are free range, paleo-friendly and pre-cooked to perfection with a wood-smoked flavour.
These mouth-watering hotdogs contain only 100% grass fed free range wagyu beef, some spices, onion and garlic. All you will to do is heat up and serve with your favourite toppings to make the perfect meal. They are also great for a quick and healthy snack.
Simply heat and serve. Simmer (without boiling) for 6 minutes or heat gently on a hotplate
Grass Fed, Free Range
Paleo-Friendly
Pre-Cooked with Wood-Smoked Flavour
Free from Allergens
Gluten Free
No Preservatives
No Antibiotics or Added Hormones
Carbon Neutral Product
Located:   Butchery aisle
Size:   275gm
Visit website:   Click Here 
Shelf price:  ∼$6.50
Available from:   Woolworths, various IGA/Foodland/independent supermarkets
Distribution:   National
oct2019