Coca-Cola – Limited Edition – Coca-Cola Plus Coffee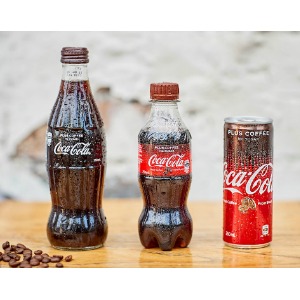 Coca-Cola Australia has launched a limited edition Coca-Cola Plus Coffee No Sugar just in time for summer
Coca-Cola Plus Coffee has the great taste of Coca-Cola with a dash of real coffee from Brazil, it's a fresh take on the delicious taste of Coca-Cola Classic but with the unmistakable aroma of real coffee and some subtle caramel undertones – just like the real thing, the delicious taste of Coca-Cola Plus Coffee is best served icy cold.
If it sounds like it packs a punch – people might be surprised that Coca-Cola Plus Coffee actually has much less caffeine than the same amount of a regular latte or flat white, but a little more than Classic Coca-Cola.
And for those watching their sugar intake the good news is that Coke Plus Coffee is completely sugar free.
Located: Drinks aisle
Size: Various
Release date: Released
Road test: 26 Sept 2017
Visit website: Not available on Coca-Cola Australia website at time of writing
Shelf price: Not available at time of writing
Available from: Coles, Woolworths, various IGA/Foodland/independent supermarkets, convenience stores, etc.
Distribution: National
sept2017