Coles – Mum's Sause – Bolognese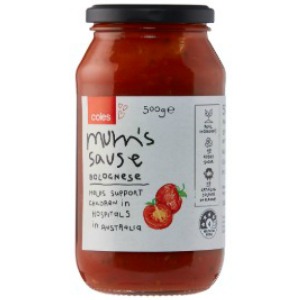 What a great initiative to get behind and get a great Bolognese Sauce at the same time…
Every year children account for one million admissions to hospitals in Australia – and the number is rising. Children may be in hospital for a day, a week or even months, and they may be there for many different reasons, but there's something they all suffer from: homesickness – 50% of children in hospital are reported to suffer from moderate to high levels of homesickness.
Curing Homesickness is a great new fundraising initiative that brings children's hospitals from across Australia together, to get kids home from hospital sooner – they believe kids don't belong in hospital, they belong at home and they are rallying support from all round Australia to make sure they can cure homesickness for children in hospital.
Money raised will go towards helping kids in hospital get back home where they belong by investing in vital funding needs such as research, the latest equipment and the amazing health professionals who deliver the care our children need. Funds will be also used to cure homesickness by developing services to connect kids to home while in hospital and making kids feel a bit more at home during their hospital stay.
To read the full story of Curing Homesickness' great work, and even donate to assist their great work go to the Curing Homesickness website: Click here
As part of Curing Homesickness' fund raising efforts they have teamed up with Coles Supermarkets to make a delicious new pasta sauce called "Mum's Sause" – 50 cents from every jar of Mum's Sause goes to helping sick children in hospitals across Australia as part of the Curing Homesickness initiative.
Please share to help spread the word 🙂
Located: Pasta sauce aisle
Health Star Rating (HSR): 4.0
Size: 500gm
Release date: Released
Road test: Untested
Visit website: Click here
Shelf price: ∼$3.00
Available from: Coles
Distribution: National
jul2019