Darrel Lea – Ice Cream Tub Range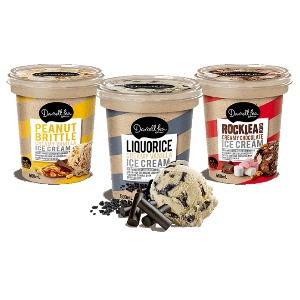 Darrell Lea's new Ice cream range has taken some of their most famous flavours and mixed them with a creamy, smooth Ice cream to create your new favourite treat!
True to Darrell Lea's style, their new ice cream range are absolutely packed full of gooey, chewy, crunchy inclusions… each tub is bursting with Darrell Lea's indulgent flavours.
Available in 3 variants:
Rocklea Road – the perfect mix of marshmallows, peanuts, toasted coconut and rich chocolate ice cream.
Peanut Brittle – packed full of crunchy brittle, roasted peanuts a smooth peanut butter swirl and classic vanilla ice cream.
Liquorice – exploding with Darrell Lea's famous Batch 37 Liquorice, crunchy aniseed chips and a gooey aniseed swirl all mixed with creamy vanilla ice cream.
Located: Freezer aisle
Size: 500ml
Visit website: Not available on Darrell Lea website at time of writing
Shelf price: ~$11.00
Available from: Various IGA/Foodland/independent supermarkets
Distribution: National
aug2019