Décor's New Thermostone baking range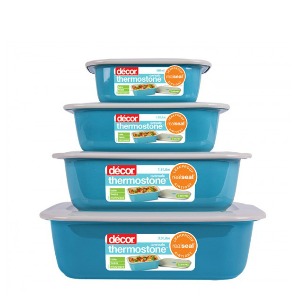 Thermostone dishes have been beautifully designed to allow you to take meals straight from the oven to the table for serving.
Made from premium durable stoneware and finished in on-trend teal blue which will add a pop of colour and style to any dining setting, they also feature easy grip handles for lifting and microwave friendly lids with pop open steam release vents for quick reheating.
Forget wrestling with plastic wrap that doesn't quite cling in all the right places, messy spills to clean up, and funky smells wafting around the fridge – with the introduction of the first ever purpose built air-tight lid for stoneware, the Thermostone range makes all these dramas a thing of the past.
Décor's unique 'Realseal' lid creates an air-tight seal allowing you to serve, store, reheat and take meals on-the-go with ease.
Décor's 'Thermostone' stoneware has been awarded Ambiente's Design Award for 2016.
Available in the following sizes:
Located: Cooking Utensils aisle
Size: As detailed above
Release date: Released
Road test: Untested
Visit website:  Click Here
RRP: Not advised
Available from: Woolworths, various independent supermarkets, and Harris Scarfe Department Stores.
Distribution: National