Dr. Beckmann – Service-it – Washing Machine Cleaner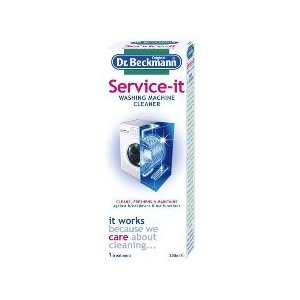 Regular use of your washing machine will affect its performance and reliability.
Dr. Beckmann's Service-it tackles both the dirt you can see and can't see.
Cleans – eliminating the detergent residues that can build up on your drum, pipes, seals and all throughout your machine.
Freshens – get rid of the dirt and grime that creates nasty odours to leave your machine smelling clean and fresh.
Maintains – eliminates the limescale on your element to improve your machine's efficiency and protect against breakdowns and expensive repair bills.
Use Service-it every 2 months or after 30 wash cycles to clean, freshens and maintains your machine to help avoid expensive repairs.
Located:
Laundry aisle
Size: 250ml (1 treatment)
Release date: Released
Road test: Untested
Visit website: Click Here
Shelf price: ∼$4.99
Available from: Woolworths, various IGA/Foodland/independent supermarkets
Distribution: National