Ecostore Laundry Liquid – Geranium & Orange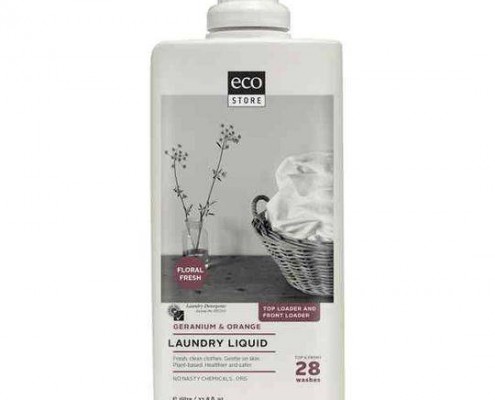 Formulated from the latest generation plant-based ingredients – being free of things like optical brighteners, enzymes and synthetic fragrances means it's kinder to your skin and is ideal for those with sensitive skin or allergies.
Ecostore Laundry Liquid is safely super concentrated to give many washes per pack, (e.g. 1L = 28 washes) and has been independently benchmarked against the market leader to ensure excellent results.
Ecostore laundry Liquid:
is made in NZ to the strictest environmental standards in our ISO14001, Enviromark Diamond and CarboNZero certified factory.
500ml and 1L bottles are made from renewable sugarcane plastic, which is 100% recyclable and helps to reduce your carbon footprint.
has grey water systems in place – the water from your machine or hand-wash can safely be re-used on your flower gardens, lawns and trees. Septic Tank Safe.
Other variants: Eucalyptus and Fragrance Free
Size: 1lt
Release date: Released
Road test: Untested
Visit website:      http://www.ecostore.com.au/
RRP: ∼$9.99 – Seen on special $7.00
Available from: Not advised – seen at Woolworths