Emporia – Bathroom Tissue – Unscented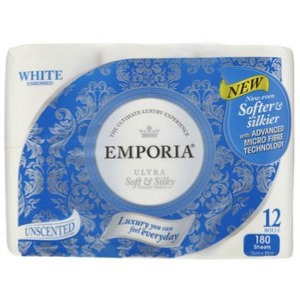 Experience the ultimate luxury in bathroom tissue with Emporia ultra silky softness.
Emporia ultra silky soft tissue is now even softer using Advanced Micro Fibre Technology – this unique process alligns the fibres during the tissue creation for a new level of softness.
The unscented bright white tissue is delicately embossed for you to enjoy a little bit of luxury every day.
Made in Australia
Sustainably harvested material
Biodegradable tissue, suitable for all toilet systems
Located:
Toilet paper aisle
Size: 12 pack
Release date: Released
Road test: Untested
Visit website: Not available on Emporia website at time of writing
Shelf price: ∼$10.00
Available from: Coles
Distribution: National