Fever-Tree – Aromatic Tonic Water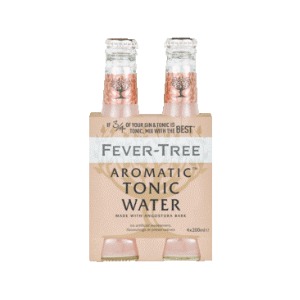 Fever-Tree has unveiled the new Aromatic Tonic Water, adding a splash of pink to the classic Gin and Tonic this summer.
The history of Aromatic dates back to 1814, inspired by a historic naval recipe which cites an extract of angostura bark being used in fever remedies prescribed by the naval surgeons as an alternative to the long known anti-fever prescription of cinchona bark (quinine).
Fever-Tree researched early references of Tonics and have sourced the globe to finesse the aromatic recipe. The gentle bitterness of Angostura bark from South America is balanced by the sweet, spicy flavours of various ingredients including vanilla from Madagascar, ginger from Cochin and cardamom from Guatemala.
These are combined with Fever-Tree's signature quinine from the Congo and soft spring water. The result is a tonic water with subtle aromas of exotic spice and fresh citrus, a refreshing aromatic flavour and a clean, dry finish. The result is a rosé pink hue. This completes a range of 13 all-natural mixer and tonics to pair with premium spirits.
No artificial sweeteners, flavours or preservatives
Located: Drinks aisle
Size: 4 pack (4 x 200ml)
Release date: Released
Road test: Untested
Visit website:Click here
Shelf price: ∼$7.99
Available from: Currently at Dan Murphys
Distribution: National
nov2017